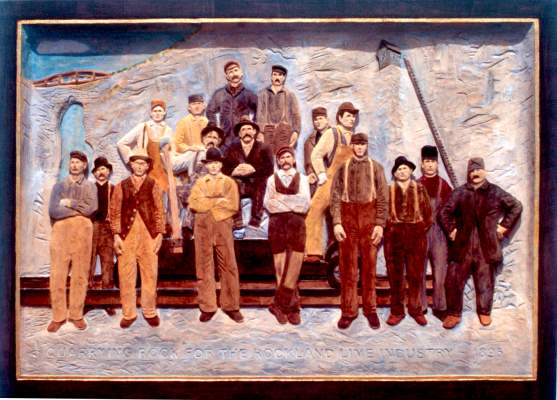 white pine 42"x30"x2" Roots of Rockland © 2001 S. Lindsay
This polychromed wood relief was commissioned by The First National Bank of Damariscotta for its new building in the city of Rockland, Maine in 2001. The commission was awarded based on an open competition. The bank was interested in works that would celebrate Rockland's past and future. My design called for a relief carving based on a historic photograph of workers in a Rockland limerock quarry at the end of the nineteenth century.





I selected the topic because the lime industry is the foundation on which Rockland is built. The name of the city was chosen, in fact, to reflect this fact. Seventeen miscellaneous quarry workers are shown posed on a tipping railway cart that would have been used to move the stone from the 300 foot deep quarries along Old County Road to the Rockland shore front, where it was heated in kilns and converted into lime for export around the world. In the background, I have included a view of a staircase and building depicted in other photographs, and also an image of the old Park Street Bridge that connected Park Street to Old County Road until the 1950's. The date on the inscription is, unfortunately, conjectural-there is no known date for the photograph, and the workers are not identified by name.

The finished work is 42 inches wide by 30 inches high. It is carved from a laminated piece of one and three-quarter inch native white pine. Color was added by staining the wood. The work was unveiled at an opening reception for the branch on September 24th, 2001.

The original photograph, which belongs to the Rockland Historical Society, is mounted on a sort of gold mat. Taking a hint from this, I added a border in gold leaf to my composition. I thought that this was a fitting tribute to these tough men on whose labor Rockland was founded.

back to what's new | main page